Providing The Support You Need
At Jill & Joey we know that you can use all the support you can get while you're pregnant. By gently supporting belly weight, our maternity belt reduces pressure on your spine and pelvis which can greatly reduce common pregnancy pains like round ligament pain, Symphysis Pubis Dysfunction (SPD), Pelvic Girdle Pain (PGP) and edema.
Many mothers report feeling much more comfortable with the Jill & Joey pregnancy belt on, both day and night. Click here to learn more about how the Jill & Joey belly band can help with pregnancy pains like round ligament pain, SPD, PGP and edema.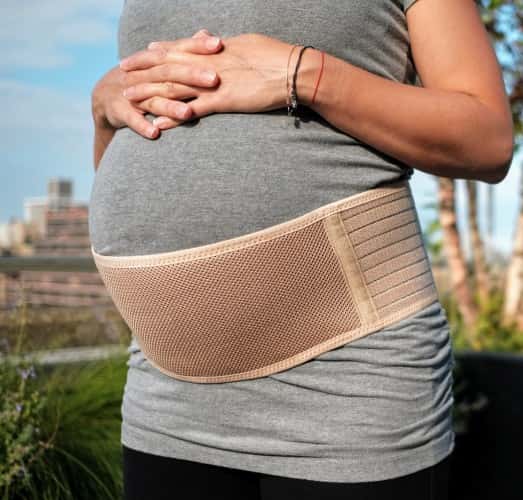 Versatile
We know you like to stay active throughout your pregnancy, so our belly band is designed with active mothers in mind. The Jill & Joey maternity belt can be worn over or under your clothes, while being active, sitting or lying down. Many mothers report they loved wearing our pregnancy belt while they continued running throughout their pregnancy.
Why Jill & Joey?
It's hard to imagine any other baby animal being more snug than a baby kangaroo hanging out in its mother's warm pouch. Female kangaroos are often referred to as Jill whereas baby kangaroos are called Joey. We want all of our customers, both mothers and babies, to be as comfortable as Jill & Joey.
Megan H.

"I've been going to the chiropractor for weeks had two massages but nothing helped. Within twenty minutes of wearing the Jill & Joey maternity belt my back pain was almost gone."

Cheri P.

"I rave about it to my husband all the time and can't believe I made it through three other pregnancies without one."

Catherine S.

"I'm 29 weeks pregnant and had just about given up going for runs. I bought this maternity belt based on good reviews, and yesterday I ran 5 miles on trails like it was no big deal!"
Maternity Belt
Regular price
$21.99 USD
Sale price
$17.99 USD
Unit price
per
Sale
Sold out
Share
View full details